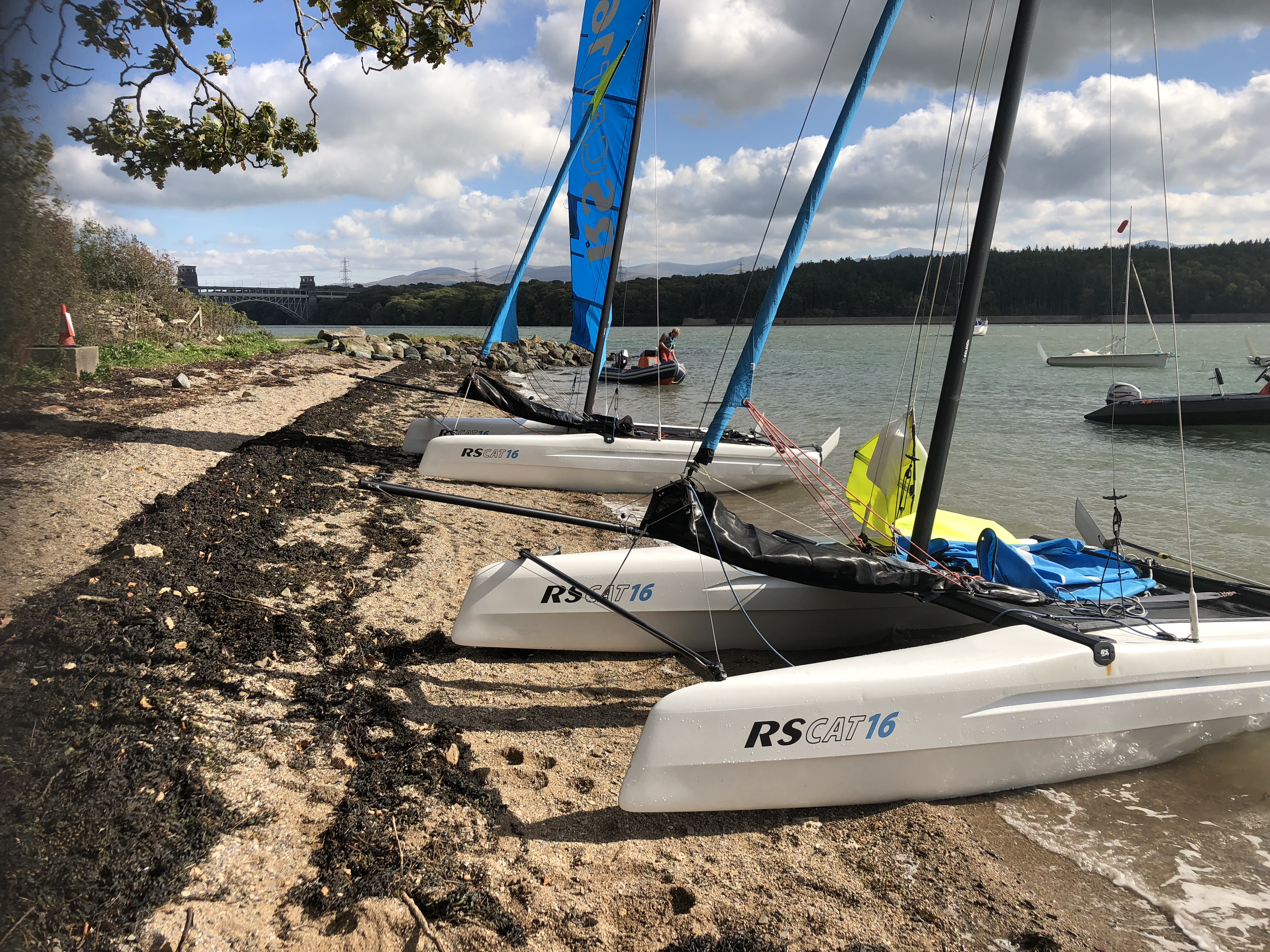 Plas Menai 2018
Everyone arrived Friday afternoon and after having our food and sorting our rooms we headed to the bar, to put the world right.
Saturday morning, after breakfast we were off to the safety briefing, after which we retrieved the sails & rigged our chosen boats. Rigged, we set off, heading up the straights towards the Menai bridges. With winds around 15mph spinnakers were released and some fun was had. Lunch was had on a small beach just south of the bridges.  As the tide had changed we were unable to sail through the swirlies, so Tom the safety boat lead decided to give us all a little guided tour of them.
After lunch, we headed off, putting reefs in a few of the larger boats as the wind picked up to 28 mph. The water became very choppy with some good troughs to hit and give your crew a shower. Once we returned and were changed, food was enjoyed and then we played the 'lets try and get a taxi' game. After we all lost that game, it was 'lets get a bus' and again we lost as it didn't turn up. JC was not happy as he wanted to go to town and told us all so. Thankfully, after playing the taxi game again we won and popped into town to try their soft drinks!
Sunday we all woke and after breakfast chose some more boats: new Aero with 9 metre and 7 metre sails were chosen by the brave & some fusion single handers with spinnaker. Again, on the water, spinnakers were released and off Trimpley went, sailing south this time.  We stayed closer to the centre this time so lunch was more comfortable. After lunch, some brave people took to the J80 keel boat. They had a few problems starting off as the current kept trying to put it on the rocks, but they did get sailing ("Should have bought an engine", was heard!).  With winds of 18-22 mph sailing was good through the day. We all came off the water for 4.30 so had 2 full days of sailing. "See you next year Plas".