SUPER SANTA SUNDAY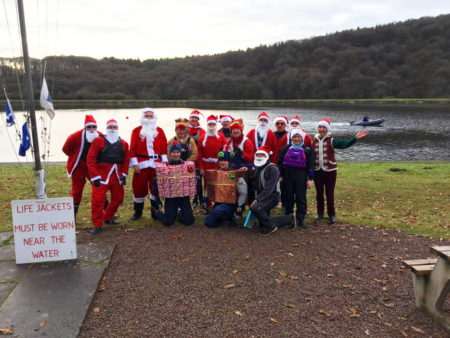 A riot of red, often portly Santas, two Christmas parcels,  Santa's elf and Rudolph the red-nosed reindeer were among about thirty club members who attended a very successful Christmas lunch and festive sailing at the weekend.
A Christmas Pudding Race involved Lasers and GPs accumulating " pudding points " by being first past each buoy on a convoluting course. They then had to perform two turns to stir the pudding. Ralph Webb and John Cookson proved too strong in their GP and in the Laser class, a much closer race, was won by Eddie Hillman.
An excellent turkey lunch was then tucked into. Thanks to the ladies and gentlemen of the galley, especially Linda, Cathy and Pat.
The wind , as it has done for the past few weeks, then died to nothing. " Rudolph's Red-Nosed Rampage " was " sailed " to various buoys around the course to eliminate the late arrivals at the finish line. Simon Yeomans' technique at pumping was a joy to behold ! He looked as if he was ski-ing along the water and although he won the event for the Lasers, he suffered for it later. Ralph and John eased to another win in their GP. Well done all.
Henry Budden won the Junior Helm award and the Buddens triumphed with the Best Decorated Boat and costume, ( they were the parcels ! )
A great day ! Thanks for supporting this venture. Next event is the Millennium Trophy  on Sunday 1 January at 1130.
See TSC Facebook for some excellent photos.