Many thanks to all those members who came and did sterling work on Saturday at the work party session.. We managed to do plenty of valuable jobs  and thoroughly enjoyed Linda's bacon butties.
The sailing on Saturday was memorable for its almost complete lack of wind, whereas the Sunday sailors were almost blown away. Trimpley sailing – don't you just love it !!
Just a reminder that there is a work party on Saturday ( November 11 ).
Might damp so bring a brolly !!
Trafaldwyn Trophy Results
On a cool but fine November day, eight dinghies raced for the Trafaldwyn Trophy. Steady winds saw some close racing with both the GP and Laser result going to a "shoot-out" in the third race.
Ralph Webb and Mik Neville won the first race in the GP class by almost a minute. Simon Fletcher and John Cookson joined in racing and  took the second race by half a minute. The third race was very tight with the lead changing hands several times. Simon and John eventually pulled out a lead and crossed the line eighteen seconds in front of Ralph and Mik to take the title as well as  the Handicap result. Some excellent tactical race from these two experienced crews.
Keith Budden and Ben Roberts won the first race on handicap and Ben Roberts , helming for the second race, also won on handicap. After eventually deciding who would sail the third race, Ben was just too far behind Simon to win the handicap trophy.
Mike and Linda Harrold, showing some tidy spinnaker skills were third in the first race but were forced to retire in the second when their spinnaker jammed..
In the Laser class only two boats sailed in the first race which was won comfortably by Mike Dalziel from Craig Chadderton.  Simon Challand joined them in the second race and Craig was only 40 seconds behind Mike which gave him a chance of winning the Handicap trophy with a good result in the third race. Despite coming second Craig just did enough to win the Handicap trophy- a good close race.
Matthew Chadderton, in his Topper, was the only sailor who competed in the Menagerie Race and posted three excellent times. Matthew also took the Top Junior award. Just goes to show that you to have to be in it to win it.
It was great to see 16 ( yes, 16 ) boats on the water this Sunday. In amongst those 16 there was a small group of Topper sailors. They have been training hard over the last few months and are now regularly racing on Sundays.
Will OODs please note that the Toppers should be shortened after 40 minutes or so with 4 blasts on the hooter and the raising of the Topper flag. A Topper series trophy may then be awarded.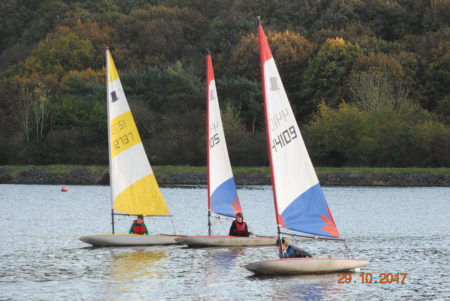 Encouraging these young people to sail regularly will sharpen their sailing skills and benefit the Club in the long run. Well done Toppers.
Trefaldwyn Trophy – Notice of Race
Click on the link below for the Trefaldwyn NOR
Trefaldwyn Trophy- Saturday 4 November
Come and sail the Trefaldwyn Trophy. Open to GP14 & Laser classes.
All other boats sail as a Menagerie fleet. First race at 1130. Consisting of 3 races
with 2 needed to be sailed to qualify. Awards for each class winner and personal handicap
winner. Menagerie class award for race winner and awards for Best Newcomer and Junior Crew.
Plenty to go for !
Santa Special – Sunday 10 Dec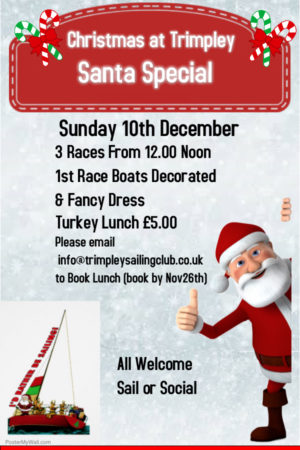 WORK PARTY-Saturday 11 November
We are holding a work party on Saturday 11 November from 9 o'clock. There's
plenty to be done, so bring some tools and let's get down and dirty !